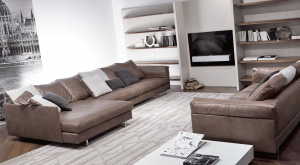 Living rooms are a vital anchor to any home regardless of size or architectural style. Not is the living room the central common area for residents, but it's often the first thing you and your guests will see when entering your home. Thus, it's vital to have a living room that's comfortable, functional, and visually attractive.
That's why you need Melgrati's Miami Contemporary Living Room Sets, which utilize the latest and greatest in interior design. When you browse through our extensive gallery here, you'll see the incredible variety of styles we've worked on, each utilizing the best of Italian materials and craftsmanship.
Not only do we offer an already-rich selection of motifs, schemes, and layouts – which testifies to our creative flexibility – but we're dedicated to providing cutting-edge bespoke services that create one-of-a-kind interiors tailored to your specific vision. Our Italian Contemporary Interiors are designed and constructed local craftsman with considerable experience in premium design elements. By utilizing cutting-edge technology, trusted partners, and proven methods, we offer the best interiors imaginable.
Melgrati is willing and able to adopt any new designs and finishes that are not in current production based on each individual project. That means we will go above and beyond to make sure that your unique vision is made into a reality, regardless of the specifics. We take every element of every project very seriously.
From living rooms to bathrooms, if you're looking high-quality Contemporary Interiors and professional services to go with it, turn to Melgrati, an industry leader that's always raising the bar in interior design services. For more information, call us at 1-786- 219-7517.