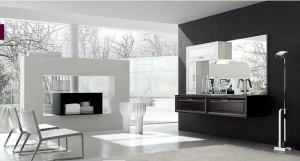 Without exception, the right bathroom offers a delicate but vital combination of style, comfort, and convenience. It's not just a needs-only space, but a highly-personal area that should reflect your ideal source of comfort and personal hygiene.
With this in mind, Melgrati offers the finest in Miami Italian Bathroom Furniture and other design elements. By utilizing high-quality Italian Contemporary Interiors and skilled Italian craftsmen, we help create incredibly chic bathrooms that are carefully customized to suit the needs and preferences of each individual client.
You can see for yourself the sort of quality and style that Melgrati has to offer by browsing through our extensive gallery of past bathroom projects. You'll notice the sheer variety of motifs, schemes, design elements, and other details that reflect both deluxe materials and skilled interior design.
Through the use of cutting-edge technology, tired-but-true craftsmanship, and well-established, contractors, you will receive the best interiors imaginable. Our innovative approach has done well for us – and our clients – for well over one hundred years!
As a reflection of our dedication to you, Melgrati is more than happy to adopt any new designs and finishes we don't normally offer to meet your vision. Regardless of the specifics, we will go above and beyond to make them a reality.
From living rooms to bathrooms, if you're looking high-quality Contemporary Interiors and professional services to go with it, turn to Melgrati, an industry leader that's always raising the bar in interior design services. For more information, call us at 1-786- 219-7517.